---
http://naruto.wikia.com/wiki/Jutsu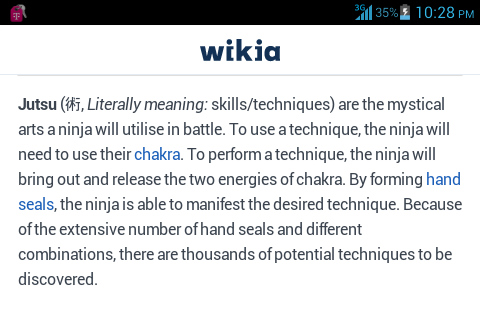 If you are a surger,
You qualify for learning occult jutsu.
If you can surge for 30 seconds - than you are more than qualified.
The reason why I suggest surgers,
Is because surgers can quickly form a sensation using "surging".
You do not have to be a surger to learn and use occult jutsu - but if you can't surge it will take you longer to be able to cause your blood to rush away from the area you are using in your hand to form a symbol or sigil.
Okay surgers,
Step one:
|
"Focus Surge On Hands & Begin Sensitization".
Step two:
|
"Begin forming one softball sized psi sphere with your left hand, and with your right hand... form a baseball sized psi sphere, keep them both together; now focus your surge into the first large psi sphere and feel it grow slowly - and as for the second small psi sphere... feel it slowly getting smaller: remain like this for 3 minutes."
Step three:
|
"Surge your hands and then release surge. Next visualize a sigil or symbol of your choice forming with a tingling sensation on your left hand. Now surge that hand while focusing on the tiglingness of the shape of your sigil/symbol on or in that hand, repeat with a different sigil for the right hand."
Step four:
|
"Remember, Yin-Yang".
Step five:
|
"If you successfully have formed both symbols or sigils on both of your hands, cease surging."
Step six:
|
"To perform an occult jutsu - develop a hand sign that represents the household or temple or shell of both sigils on your hands.
Practice over. ~
So in a nut shell:
1.) Sensitize hands by conventional hand motion method - or by surge method.
2.) Form one type of sigil on your left hand and form another different type of sigil on your right hand; both sigils must be energies that when they are combined, they create some weird effect.
|
As you begin forming both different sigils at the same time on your hands, you want to be in the process of forming your hand sign/seal along with your sigil forming.
By the time you are done forming your hand seal - you should also be done with forming both of the sigils on your hands.
...
Here is some references to what I call "surging":
Video 1 &
Video 2 ...
I found these videos after I had learned that I can induce this surging sensation @ will or on demand; I researched.
...
Bonus:
Here is a fun little trick I like to call: "Copy and Paste No Jutsu".
This trick requires no skill at all.
All you simply do is learn to see after images quicker than normal, and stare at a page of text that you want to copy and paste and allow the light being reflected from it - to burn into your retinas for 15 seconds.
|
Then quickly look at a blank sheet of paper and write down what you can still see in the after image of the page you were staring at or focusing on, you could use your peripherals too for this. ~